Today, America stands in the judgement of another tragedy. The beloved City of Dallas has been deemed partakers in this tragic triangle against police brutality. As a proud citizen and native of Dallas, I find our city pretty peaceful and welcoming. Dallas is still that city of brotherly love. One gunman decided to take matters into his own hands after a peaceful protest. It only takes one bad apple to ruin the whole bunch, but detected in time can save the rest.
Thanks to our Men in Blue for being in the right place at the right time to capture and destroy the culprit. This doesn't mean the war is over but a time to reflect on ourselves and to dissolve the root cause of the problem "racism."
In the past years the fight regarding "Black Lives Matter," has caused the ongoing protest for justice. Black men and women losing their lives behind police brutality, more men than women. Our hearts go out to their loves ones, but at the same time we cannot take justice into our own hands. "Our Lives Matter" too, when one hurts, we all hurt.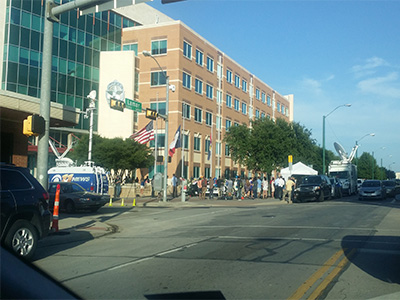 We mourn for the five officers who lost their lives to this horrific tragedy. We hurt for their families, for our city, and for our nation. These men put their innocent lives on the line to serve and protect. We must respect one another in order to receive the respect that's due us. Our country was founded on the principles of "liberty and justice for all."
For we are not fighting against flesh-and-blood enemies, but against evil rulers and authorities of the unseen world, against mighty powers in this dark world, and against evil spirits in the heavenly places. I don't know about your faith, but my faith says the battle is not yours, it's the LORD's.
Bishop T. D. Jakes couldn't have closed with a better prayer during the police memorial at Thanksgiving Square – Downtown Dallas. He quoted from the bible, "If my people, which are called by my name, shall humble themselves, and pray, and seek my face, and turn from their wicked ways; then will I hear from heaven, and will forgive their sin, and will heal their land." WOW! Can this be the answer to our prayers? Is this the resolute?
It is a sad day! People are heartbroken, frustrated, sad, and angry. History continues to repeat itself with violent crimes. How are we changing as a nation, as a race, as a people? What are we fighting for? What are you fighting for? Love, joy, peace, hope, unity, justice, freedom?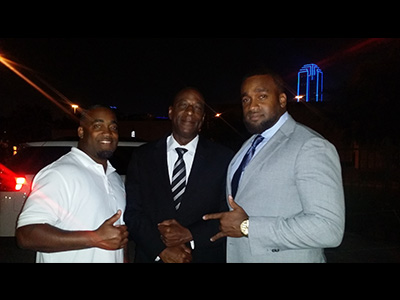 Take a look at the gentleman in this picture. Through it all, all three are smiling in brotherly love, Mark Hughes left, brother far right, and my husband and escort Lorenzo Davis. Mark Hughes a marcher in the protest was falsely accused of being a shooter in the Dallas police officers ambush. He is a law abiding citizen with a permit to bear arms. That law was passed in Texas? The accused surrendered his gun to the police and was found not guilty; however no apology or the clearing of his name has been rendered, according to Mr. Hughes. He seeks his own personal justice from the Dallas Police Department. A simple apology.
According to Dr. Carol North, Director of Trauma and Disaster at UT Southwestern, many will be traumatized by this incident. She says it is normal to have these emotions for a while, often times called post-traumatic stress. However, if these symptoms persist, it is best to seek professional help.
Time will heal our families, our city, our people, and our nation, because the love of God is shed abroad in our hearts and hope will not disappoint us. Be Encouraged!